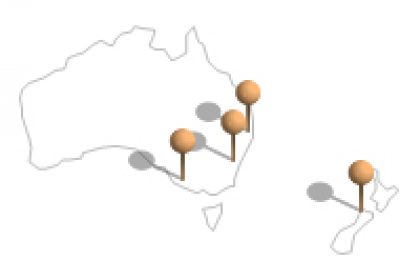 Client demand for strategic infrastructure and service advice in the health and tertiary education industries is driving Destravis expansion into Sydney, Melbourne and Wellington.
Headquartered in Brisbane, Destravis has provided specialised service for clients across the country since 2011. In that time, we have developed a reputation for quality advice and strategic problem solving. Our commitment to quality is evident in the hands-on involvement of highly experienced, senior level personnel on all projects. Led by renowned health industry specialists, each of the new offices reflect that same level of commitment.
Regional Directors have been appointed to champion the Destravis offering locally in Wellington and Victoria.
Managing Director Gunther De Graeve is humbled by the trust of his growing client base. "Destravis has experienced constant growth since our inception. Client's recognise the unique insights and expertise our team brings to complex projects. We have been fortunate with opportunities to showcase our skills to clients across Australia and in New Zealand and we have proven to them to be reliable consultants, generous with our knowledge. As we look forward now, we are excited at the opportunities to adapt to our new client's challenges and constraints and to bring them value through our ever-increasing benchmarks and lessons learnt".
Destravis are future-focused, pragmatic problem-solvers who help our clients design and deliver better built environments. Our services range from project definition and feasibility, business case and cost modelling, asset strategy, briefing and facility planning.
Destravis enables projects to get off to the best start, underpinned by robust strategies with a constant eye to a quality end user experience.